Dust Collection Systems
from Millennium Industrial Equipment

Millennium dust collection systems are engineered to your application. We work with several different manufacturers depending on the customer's requirements and material characteristics. Our dust collection systems are designed to meet and exceed your needs. We supply baghouse dust collectors, cartridge dust collectors, pressure / vacuum receivers, and cyclone dust collectors. In addition, we use the most advanced filtration media technologies available.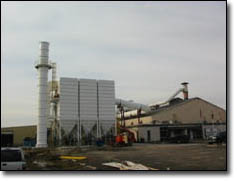 Millennium's custom fabricated, 100,000 cfm dust collection.
System was a Turnkey Project for a Midwest Copper Refining Plant.
Millennium offers the following:
Baghouse Dust Collectors

Pulse-Jet Dust Collector
Reverse-Air Dust Collector
Medium Pressure Dust Collector
Explosion Containment Dust Collector
Portable Dust Collector

Cartridge Dust Collectors

Vertical Cartridge Dust Collector
Horizontal Cartridge Dust Collector
Explosion Containment Dust Collector

Cyclone Dust Collectors

Standard Efficiency Cyclone Dust Collector
High Efficiency Cyclone Dust Collector

Vacuum/Pressure Receivers for Central Vacuum Systems and Pneumatic Conveying Systems
Bin Vents for Silo / Hopper Containment / Exhaust
Millennium offers complete Engineering Services from consulting, to system sizing, to layout drawings, to detailed hood design / drawings, to detailed equipment scope, to installation / start-up / training.
Our primary territory is the Midwest which includes:
Missouri / MO, Illinois / IL, Iowa / IA, Tennessee / TN, & Kentucky / KY. We have also completed bulk processing projects in Louisiana / LA, Indiana / IN, Mississippi / MS, Tennessee / TN, Arkansas / AR, Kansas / KS, California / CA.