Roller Compactor, Granulation & Size Reduction Equipment
Alexanderwerk Inc. is a 100% subsidiary of Alexanderwerk AG. Located in Horsham, PA, USA. Under the brand name Alexanderwerk they develop, design and manufacture machines for compacting, granulating and crushing. Worldwide, their solutions are being used in the pharmaceutical and chemical industry by many well-known companies.
Roller Compactor PP 250 Provides Economic Compaction up to 4.000 kg/h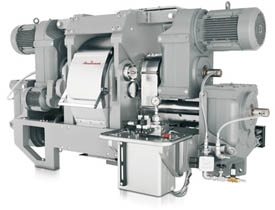 Alexanderwerk's PP 250 is currently the best roller compactor available for the economic compaction of raw materials, with a throughput of up to 4,000 kg/hr.
Alexanderwerk has been developing and producing roller compactors for the chemical and natural resources industries since the 1950s. The PP-Types are a completely new generation of heavy-duty roller compactors developed from our long-standing experience and incorporates the latest process enhancements.
To achieve a high compacting output each of the two rollers inside the compacting unit, mounted between bearings, are driven by two gear motors on either side, left and right. This unique design guarantees high energy and torque input to the rollers allowing the higher circumferential speeds usually generated by larger roller diameters. The required high material flow is fed to the vertical rollers via the Combi-Vent-FeederŪ System patented by Alexanderwerk, included as standard. Moreover, the feed unit is enhanced by the included vacuum design that significantly improves the conveying characteristics and resultant increased throughput.
The machine's design and construction meets all the requirements of the chemical and natural resources industries:
Clamshell design, improved accessibility
Extensive use of standard components for high machine availability
Compact design
Symmetry in parts and weight
Machine upper section pivotable
Patented Combi-Vent-FeederŪ System as standard
Feed unit in vacuum design as standard
Each Roller is driven by two gear motors
Various roller widths with adjusted number of screws, available
Optional: Wash in Place (WIP)
Optional: All stainless steel construction
Optional: explosion-proof acc. to ATEX
Optional: Utility cabinet (vacuum pump, water cooling system, air/gas supply, hydraulic)

Applications
Roller compactors manufactured by Alexanderwerk have been successfully used for years in the chemical and natural resources industries in the production of organic and inorganic raw materials such as:
Pigments
Battery substance
Salt (de-icing salt, salt for water softening)
Fertilizers
Silicid acid (for the further processing of tyres)
Animal feeds
Additives (softening agents, for example)