Vacuum Conveyors For Powder & Bulk
Click on above logo to go to the website of piab in Hinghman, Massachusetts.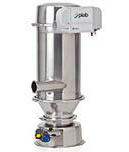 Vacuum is used with great advantage in order to convey dry powder products through dedicated pipe systems. Piab's vacuum conveying systems are built of strong components of high quality. Our objective is to offer solutions that help our customers raise their productivity.
Production of food, pharmaceuticals and chemical products demands the highest possible degree of safety as to hygiene and operation. Piab's piFlow series of vacuum conveyors has been developed as an answer to the severe requirements of operational safety and hygiene in the food, pharmaceutical and chemical industries.
piFLOW p - Premium Conveyor
This is a conveyor when a premium technology is needed, e.g. in the food and pharmaceutical industry. It also makes sense when there is a large demand on high throughput performance with a small foot print. This conveyor offers a wide capacity range – from 0.07 to 2 cubic feet batch volume.
piFLOW f - Food Grade Conveyor
This is a conveyor widely used in the industry where food grade quality is a demand. This conveyor is often used as an alternative to mechanical conveyors when there is a requirement for dust free conveying or low maintenance. Capacity up to 4 tons/h.
piFLOW i - Industrial Conveyor
This is a conveyor widely used in the general industry and sometimes in the chemical industry. It has a high throughput performance as well as a small foot print. Capacity up to 4 tons/h.
Spare parts
Since there are special safety requirements for equipment and health protection for workers in potentially explosive atmospheres the EU has created legislation for this called the ATEX directives. (ATEX is an abbreviation for Atmosphere Explosible).
The vacuum conveyor is reliable and requires a minimum of maintenance. It is, however, necessary to regularly change some of the parts to maintain maximum productivity.
The animation on Youtube describes the vacuum conveying cycle, from the suction point to discharge. Vacuum is generated by a compressed air-driven Piab vacuum pump. The filters are automatically cleaned. The fluidization ensures the discharge of the material.
Watch the Conveying Animation on Youtube for Piab vacuum conveying.
Our primary territory is the Midwest which includes:
Missouri / MO, Illinois / IL, Iowa / IA, Tennessee / TN, & Kentucky / KY. We have also completed bulk processing projects in Louisiana / LA, Indiana / IN, Mississippi / MS, Tennessee / TN, Arkansas / AR, Kansas / KS, California / CA.